Our Centre
Forfar Nursery & Preschool is a not for profit community preschool. We have been operating in the St Albans community since 1987, with a strong reputation for providing the highest quality of care and learning for children aged 0 – 5 years. The centre is a large renovated, homely villa on expansive grounds that offer children a truly 'backyard' play experience – with mature trees and real grass! The centre also provides nutritious home-cooked meals.
Forfar has a separate nursery area for children aged 0 -2 years, and a preschool area for children aged 2 -5 years. Most children enrol in our nursery and continue through the preschool before heading off to school. Forfar will become you and your child's home away from home, and being part of your extended family is something we really value.
Highly qualified and experienced teachers are a centre's greatest resource. We have a fantastic team of long serving teachers who are warm and loving, heaps of fun, a little bit crazy sometimes, and are 100% dedicated to growing great kids.
At Forfar we are well resourced with equipment and toys that encourage children to explore for themselves and learn how to make sense of their world. We believe resources should entice, engage and challenge children to instil a love of learning.
We value independence and believe in teaching resilience in our children. We also offer a wide range of activities to encourage shared experiences, working cooperatively with their peers, while at the same time supporting individual learning styles.
Warm and genuine relationships with family are the cornerstone of what we do at Forfar. We recognise you and your whanau as your child's first teachers and believe we can work together with open communication to nurture your child in their first years.
Our Centre Philosophy
At Forfar we provide a home like environment where our tamariki (children) are at the centre of everything we do. We value the importance of giving our tamariki a place where they feel safe, where they can be creative, can explore, make friends and have fun.
Our aim is to provide the highest quality care and learning for all of our tamariki. They are supported and nurtured by qualified, experienced, warm and caring kaiako (teachers). Our dedicated kaiako are also involved in on-going learning to ensure their own professional growth.
Whanaungatanga (family relationships) are really important to us – they are warm, genuine, respectful and reciprocal. The aspirations our whanau have for their tamariki are incorporated in all aspects of our centre reflecting the principle of Mahi Tahi – everybody working together.
Our curriculum is based around play and is interwoven with some structured routine times and activities (mat times, music kai times). It focuses on the diverse interests, capabilities and needs of the tamariki who are supported by nurturing and responsive kaiako to achieve positive outcomes. We empower out tamariki to take responsibility for their own learning; embracing their natural dispositions within our respectful boundaries.
We encourage our tamariki to explore and discover in our large, natural outdoor play areas as we believe physically active play is vital for cognitive development and general wellbeing.
Our pepi (infant and toddlers) are supported by our primary caregiving programme where kaiako are attuned to the individual rhythms and needs of each tamaiti (child).
The Maori values of Whanaungatanga (positive, respectful relationships), Manaakitanga (caring for and supporting others), Mahi Tahi (working together) and Ako (learning from each other) are integrated throughout our centre to enrich our tamariki's learning.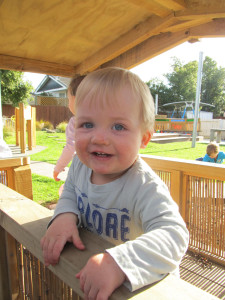 Hours
The Centre is open from 7.30 am to 5.30 pm, Monday – Friday. We close for all public holidays and for a minimum of two weeks over the Christmas period. The minimum weekly booking is 6 hours with a minimum daily booking of 3 hours.
Age Range
We offer care for children from birth to six years, however most of our children are aged between 3 months and 5 years.
We are licenced for 47 children . In the preschool we have up to 32 children, with a child to teacher ratio of 1:8, however we regularly have an extra teacher. In the nursery we have up to 14 children (although we are licenced for 15) and we have a child to teacher ratio of 1:4, however this is more often than not 1:3. We also employ a float teacher to cover teachers breaks and non-contact times.
Meals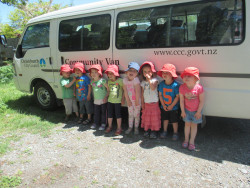 A nutritious mid-day meal is prepared on the premises each day along with morning and afternoon teas. A record of what your child eats daily is sent home. We have a four-week rotating menu.
Morning and afternoon teas are included in sessional and daily fees. Lunch is inclusive of a daily booking of 6 hours or more. Lunch may be added to a morning session at an additional cost.
Communication
Relationships matter! We strongly believe that it truly does take a village to raise a child and that if we work together we can all share in the delight of watching your child grow into a confident, resilient, caring little person. We are
here to support you in your parenting role and are genuinely interested in your family. You are encouraged to discuss and talk about your child with their teachers on a daily basis.
Parent/Family Events
Throughout the year we hold a number of events for parents and families; e.g. fish 'n' chips & disco night, family Christmas party, Trike-a-thon and parent evenings. We love to see grandparents and other family members at these events.
Fundraising
As we are a community based centre we need to fundraise and apply for funding grants to maintain and purchase new equipment, furniture and toys for the children, and to maintain and develop the buildings and indoor/outdoor environments.
Throughout the year the fundraising subcommittee organise a number of fundraising ventures (trike-a-thon, raffles, selling chocolates, BBQ's etc). Your help with these fundraising activities is greatly appreciated and helps to keep fees down.
Governance Committee
As a community based preschool we are governed by a parent committee. The Governance Committee is elected annually. This is a great opportunity to be more actively involved in your child's education.